Tuesday, April 06, 2010
More about the product : Primarily for touch-ups throughout the day over makeup, this innovative formula 'soaks up' facial oil and mattifies the skin on contact. The lightweight gel removes shine for hours, leaving a translucent, matte finish. It's gentle enough to use over any Laura Mercier foundation and is free of oils, parabens, and fragrances.
This is an easy review because it is not difficult to see the result. Once the gel touches my face, it works its magic and immediately sucks in any oil on the surface, leaving a very velvet and matte finish. However, you have to be extremely careful when using this over makeups. Using too much product at once or applying it too roughly will cause it to smudge your makeup. Instead of rubbing it onto the skin, I recommend gently patting this over the foundation that you already have on your face. I am truly amazed by its effective and fast shine eliminating ability.
To further test this product, I tried applying it as a primer before my foundation as Laura Mercier also suggests this way to better control oil secretion. I have to say that I love using it this way much better. I use this as a primer before my makeups, and my face would be shine free all day long. I don't even need any blotting or touch up during the day.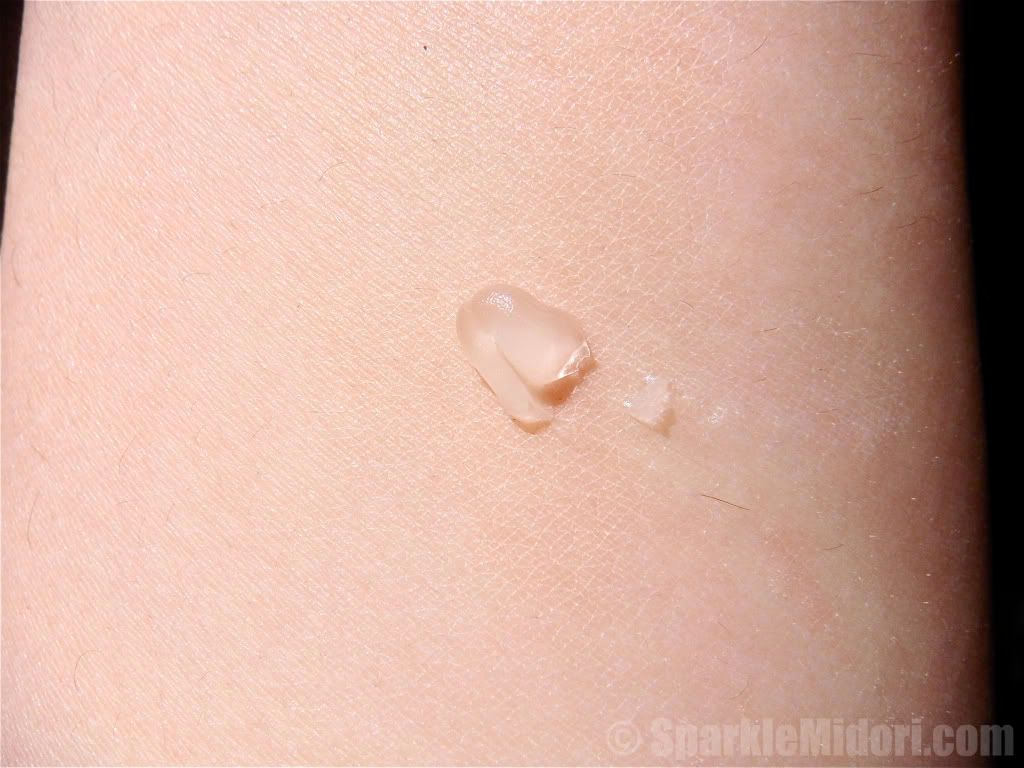 I started off with some oily moisturizer on my arm.
Then, I applied the product over the left half of my arm.
Pick It or Not ?

Quality: 45 (out of 50)
Packaging: 20 (out of 20)
Price: 20 (out of 20)
User Friendly: 5 (out of 5)
Availability: 5 (out of 5)

Angela's Ultimate Pick: A
This post was written by:
Angela - who has written since September 2009 on Sparkle Midori.
Angela writes Sparkle Midori. She is a beauty maniac, blogger novice, language guru, internet enthusiast and she loves to ramble about beauty.