Tuesday, March 30, 2010
I love to try out new brands and products, especially one that is unique and one of a kind. This is why I have been fascinated by
Lush
products. Lush makes bath and body treats that you don't usually find at other retailers. This is also why I have been on a mission to try out all of Lush's
fresh face masks
. These lovelies are made with fresh ingredients and are truly what you need to pamper your face with. Well, let's start with the most popular one,
Love Lettuce Fresh Face Mask ($7.95).
This is an effective exfoliating mask that creates smooth and radiant skin. It is easy to use and is probably one of the best exfoliating masks I've tried. However, if you have very sensitive skin, I would recommend to use a light hand with this because the crushed almond shells in the mask can be a bit abrasive.
One question I always get when I talk about this mask is, "Does it smell like lettuce or salad?". Unfortunately, it doesn't. It has a a very strong lavender scent that is very relaxing and comforting. I love it for its effective exfoliating purpose. I use it 1-2 times per week, and it is just a nice treat for my face after a long day of work. However, everything is fine until one week before the mask expires. I noticed that I still have half of the pot left, so in order to finish the pot before it goes sour, I would use it every other day for the last week. Thankfully, this did not irritate my skin. However, we all know that exfoliating at such frequent terms is simply not healthy.
Love Lettuce is a very decent mask as well as a wonderful exfoliator. But it is nothing special. Many of my other masks and exfoliators can achieve the same, if not better, results without the fear of fast approaching expiration date (usually 2 - 3 weeks). If you are new to the brand, I would definitely recommend this product, but I'm sure you would agree with me after trying it that it is defintiely not a repurchase material.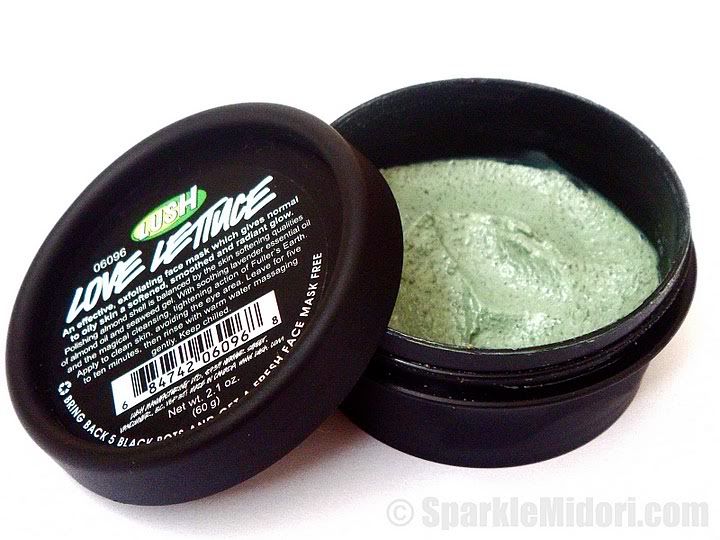 Pick It or Not ?

Quality: 40 (out of 50)
Packaging: 15 (out of 20)
Price: 20 (out of 20)
User Friendly: 5 (out of 5)
Availability: 3 (out of 5)

Angela's Ultimate Pick: B
read more "My Love & Hate Relationship With Lush Love Lettuce Fresh Face Mask"
Monday, March 29, 2010
Thursday, March 25, 2010
Tuesday, March 23, 2010
Monday, March 22, 2010
Thursday, March 18, 2010
Tuesday, March 16, 2010
Monday, March 15, 2010
Wednesday, March 10, 2010
Monday, March 08, 2010
Saturday, March 06, 2010
Thursday, March 04, 2010
Wednesday, March 03, 2010
Monday, March 01, 2010